Reverse Coed 4's Tournament (Dec. 2, 2022) Volleyball (Indoor) · Co-Ed Competitive
MonTueWedThuFriSatSun 6:15pm to 11:55pm
Team Fees

Regular

$120.00 per team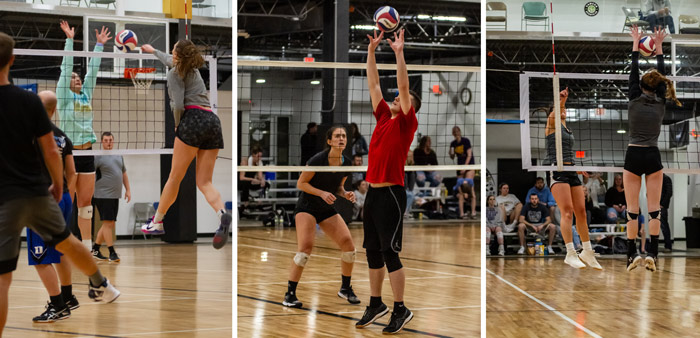 *Tournament is full. Please email Brian@CRsocialclub.com to be added to a waitlist if a team drops out.
Reverse Coed 4's Volleyball Tourney - Friday, Dec. 2nd at GameOn Sports CR Courts

18-and-over event; up to 8 teams using 4 hardwood courts
Teams will be 2 men/2 women. Competitive play; Upper skill levels recommended.
Women's height net. No open hand tips or setting the ball over the net. Men cannot block. Men can only attack from a standing position. Men are allowed to jump serve.
Tournament starts at 6:15 PM and will run until approx. Midnight.
Pool play followed by single elimination bracket play. Pool play will be 2 sets to 21 points and bracket play will be best 2-of-3 sets (21-21-15 pts.)
Champion shirts for 1st place team in Gold Bracket. Cash prizes: Gold bracket 1st - $100, 2nd - $60; Silver bracket winner - $60
Team price is $120 (includes tax and processing fees)
Questions? Please contact Brian at 319-804-8512 or Brian@CRsocialclub.com

REGISTRATION DEADLINE IS NOVEMBER 25, OR WHEN FULL.