Volleyween - Coed 6's Tournament (Oct. 21, 2022) *SOLD OUT* Volleyball (Indoor)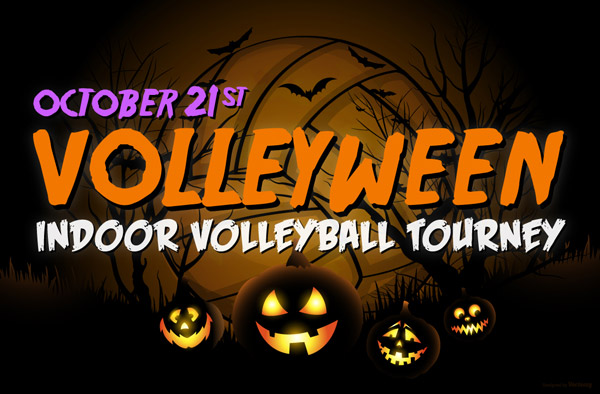 *Both divisions are sold out. Please email Brian@CRsocialclub.com to be added to a waitlist if a team drops out.
Join us for a spooky costume-themed coed 6's indoor volleyball tourney at GameOn Sports CR Courts (by Tower Terrace Rd & I-380)! Tournament details below.
DIVISION DESCRIPTIONS
COMPETITIVE: Experienced, skilled players. Teams have their own Molten spiral volleyball and can bump, set, spike. Jump serving is allowed.
RECREATIONAL: Less serious teams. Volleyballs provided. No jump serving. May have trouble with passing/setting/hitting.
18-and-over event; up to 16 teams using 4 hardwood courts
Coed 6's (minimum 3 female players). 2 divisions of play: Competitive & Rec
Tournament starts at 6:15 PM and will be completed by approx. Midnight.
Pool play for first round followed by upper/lower bracket play. Pool play will be 2 sets to 21 points and bracket play will be best 2-of-3 sets (21-21-15 pts).
Alcohol may be purchased at on-site bar for adults 21 and over.
Cash prizes for top teams; Champion shirts & merchandise for winning teams of each division. Projected cash prizes: $90 cash 1st place gold bracket, $60 2nd place gold bracket, $60 1st place silver bracket. Team costume contest with prizes for winning team.
Team price is $144 and can be paid by the captain, or individually. Price includes tax and processing fees.
Questions? Please contact Brian at 319-804-8512 or Brian@CRsocialclub.com
DEADLINE TO REGISTER IS OCTOBER 14 OR WHEN FULL.
Use the form below to filter by sport, season, day(s) and/or location; or scroll to view all programs.
---