Sand Volleyball - Thursdays (3rd Session 2022) Volleyball (Sand)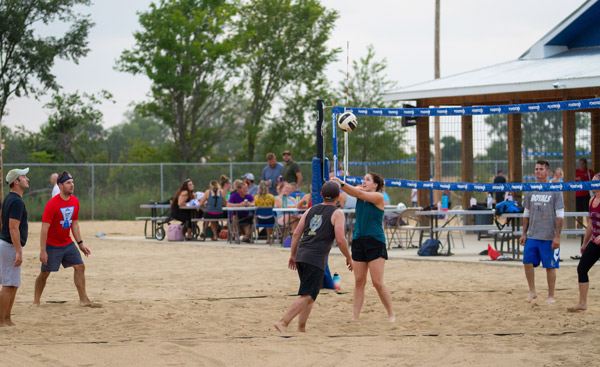 Thursday Sand Volleyball League - 3rd session starts August 18. We will be offering intermediate & recreational coed 6's. Games will be played at Sandlot Sports (located on north edge of Cedar Rapids by 380). League details below.
DIVISION DESCRIPTIONS:
Intermediate: More experienced players. Teams can bump, set, spike. Underhand hits must be with a closed fist or bumped.
Recreational: 'Here for the Beer' division. Less serious teams. May have trouble with passing/setting/hitting. Underhand hits can be open-handed as long as the ball is not carried.

18-and-over league

Coed 6's (max 3 male players on court)

3rd Session starts on August 18

Leagues at 6:30 and 7:35 PM on Thursday nights; play in one league or both! (see sub-programs below)

3 games to 25 points for each match

8-week season for all teams

League champion shirts for 1st place team. 6 free drinks at the bar for top 2 teams.

Plenty of space between courts, scoreboards and 2 King of the Beach volleyballs provided for each court

Adult beverages available for purchase at huge covered bar plus bags, ping pong and spikeball available to play

Team fee is $216 (includes processing fees & tax). Team fee can be split between players or paid in full by the captain.
Questions? Contact Brian at 319-804-8512 or Brian@CRsocialclub.com
Use the form below to filter by sport, season, day(s) and/or location; or scroll to view all programs.
---