Kickball League - Sundays (2022) Kickball · Co-Ed
Accepting Team Players Only
MonTueWedThuFriSatSun 3:00pm to 8:30pm
Team Fees

Regular

$46.00

per player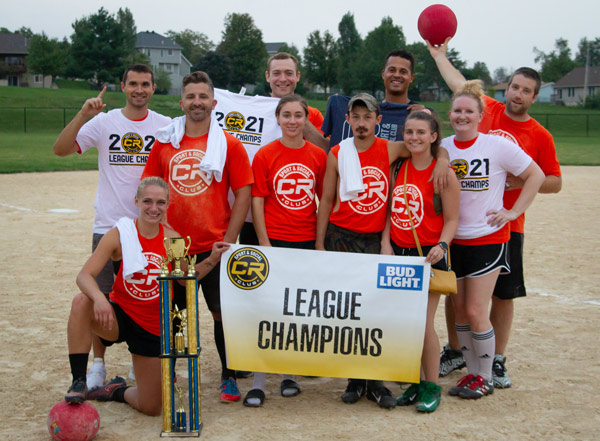 *Please email Brian@CRsocialclub.com to inquire about free agent spots
Kickball, just like you remember from growing up, except with beer (for those over 21)! This sport is for players of all athletic abilities and a great way to make new friends! Sign up as an individual, small group of friends or complete team. League details below.

18-and-over league.
Co-ed league, 10 players on the field including the catcher (minimum 4 females). All players are in the kicking order.
Team roster minimum is 12, with at least 5 of each gender. 13-14 players is recommended team size.
League t-shirt included with registration in your team shirt color. Standard unisex sizing. For t-shirt measurements, click here.
League will be played at Ely City Park (alcohol is allowed, no glass)
Games played on Sundays starting July 10th
7-week season for all teams (6 week regular season + postseason games on 7th week). Top 4 teams will be in a playoff the last week; remaining teams in consolation games.
Start times between 4:30 PM-7:30 PM except for postseason games the last week, which will start earlier at 3 PM. Games take around 1 hour.
Independent referee is included for each game
Postseason prizes for top 2 teams
Sponsor bar TBA
Individual price is $46 (includes tax and processing fees). NOTE - Each team member has to pay this fee to play in the league. Subs can ONLY be used during the season if your team doesn't have 10 players available, or at least 4 of each gender. Team Captains - Please contact us if you want to pay in full for the team (more cost effective if you have 13+ players).

Registration deadline is June 17th, or when full.
Questions? Please contact Brian at 319-804-8512 or Brian@CRsocialclub.com