Register
Bags League - Wednesdays (Fall 2022) Cornhole · Any
MonTueWedThuFriSatSun 6:00pm to 9:45pm
Team Fees

Regular

$80.00 per team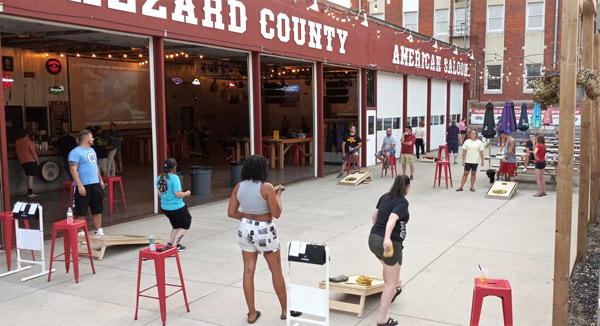 EARLY BIRD SPECIAL FOR FALL SESSION: REGISTER AND PAY BY AUGUST 1ST AND RECEIVE A $20 GIFT CARD TO HAZZARD COUNTY OR $20 IN ACCOUNT CREDIT! THE FIRST 10 TEAMS TO REGISTER WILL GET GIFT CARDS; ANY TEAMS THAT REGISTER AFTER THAT WILL RECEIVE ACCOUNT CREDIT GOOD FOR ANY FUTURE LEAGUE. GIFT CARDS WILL BE HANDED OUT ON THE FIRST LEAGUE NIGHT.
Join us for a bags league on Wednesday nights! Games will be played at Hazzard County. Fall session starts August 24th.
21-and-over league (this is due to the bar being 21-and-over after 9 pm and some league games run past that)

We will be offering 2 divisions: Intermediate & Recreational (descriptions below; note intermediate division will split into upper/lower sub-divisions if there are enough teams)

Roster minimum is 2 players; no gender requirement. 3-4 players is recommended team size.

7-week regular season + playoffs on the 8th week for qualifying teams (typically at least top 8 teams make it).

Start times range between 6 pm - 8:30 pm. Game time will vary each week; all teams rotate.

Each match will be 5 games to 21 points and takes around 1 hour. Each game counts in the standings.

League bags are provided for Rec Division.

Bring your own bags allowed in Intermediate division.

Boards for Intermediate division will be at 27 feet. Rec division will be at approx. 24-25 ft. distance due to indoor space limitations.

Projected prizes in each division: 1st place regular season - $80 cash + 6 free drinks at bar, 1st place playoffs - $80 cash + t-shirts + 6 free drinks at bar, 2nd place playoffs - $40 cash + 6 free drinks at bar.

Socializing before, during and after the games! Meet new people!

Team fee is $80. Price includes sales tax and processing fees ($72.15 standard fee + $2.62 processing + $5.23 tax = $80.00)
Division Descriptions

INTERMEDIATE: Some previous experience playing in leagues & tournaments. Most teams have their own bags and most players in this division throw with spin on the bag and have an understanding of game strategy, blocking, airmails, etc. Boards are at regulation distance of 27 feet.

RECREATIONAL: "Here for the Beer" division. Less serious players and teams. Teams must use the provided bags. Boards at approx. 24-25 feet due to inside space limitations.
Questions? Contact Brian at 319-804-8512 or Brian@CRsocialclub.com