Bags League - Wednesdays (Late Spring 2022) Cornhole · Any
Accepting Team Players Only
MonTueWedThuFriSatSun 6:00pm to 9:30pm
Team Fees

Regular

$80.00 per team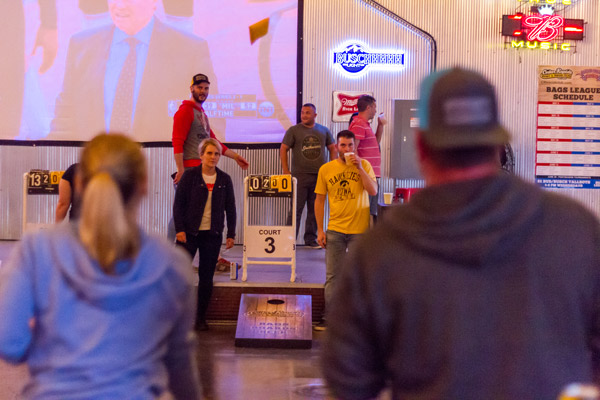 ***NEW*** Want to pay using Venmo or Paypal? Register like normal, but on the checkout page hit the 'Skip / Pay Later' option on the bottom. Send us the Venmo or Paypal payment and note the team and league the payment is for and we'll mark your team as paid.
Venmo: CRsocial (under business tab)
Paypal: Brian@CRsocialclub.com (please contact us after sending as we don't use Paypal much)

Join us for a bags league on Wednesday nights! Games will be played at Hazzard County. Late spring session starts April 27.
21-and-over league (this is due to the bar being 21-and-over after 9 pm and some league games run past that)

For April-August sessions, we will be offering 2 divisions: Intermediate/Competitive & Recreational (descriptions below)

Roster minimum is 2 players; no gender requirement. 3-4 players is recommended team size.

7-week regular season + playoffs on the 8th week for qualifying teams (typically at least top 8 teams make it).

Start times range between 6 pm - 8:30 pm. Game time will vary each week; all teams rotate.

Each match will be 5 games to 21 points and takes around 1 hour. Each game counts in the standings.

League bags are provided for Rec Division.

Bring your own bags allowed in Intermediate/Competitive division.

Boards for Intermediate/Competitive division will be at 27 feet. Rec division will be at approx. 24-25 ft. distance due to indoor space limitations.

Projected playoff prizes in each division: 1st - $90 cash + league champion shirts + 6 free drinks & club merch, 2nd - $50 cash + 6 free drinks. Regular season 1st place prize in each division: $40 cash + 4 free drinks.

Socializing before, during and after the games! Meet new people!

Team fee is $80
Division Descriptions

INTERMEDIATE/COMPETITIVE: Some previous experience playing in leagues & tournaments. Most teams have their own bags and most players in this division throw a flat bag with spin on it and have an understanding of game strategy, blocking, airmails, etc. Boards are at regulation distance of 27 feet.

RECREATIONAL: Less serious players and teams. May have trouble consistently hitting the board. Teams use the provided bags. Boards at approx. 24-25 feet due to inside space limitations.
Questions? Contact Brian at 319-804-8512 or Brian@CRsocialclub.com